Counter current systems made in Germany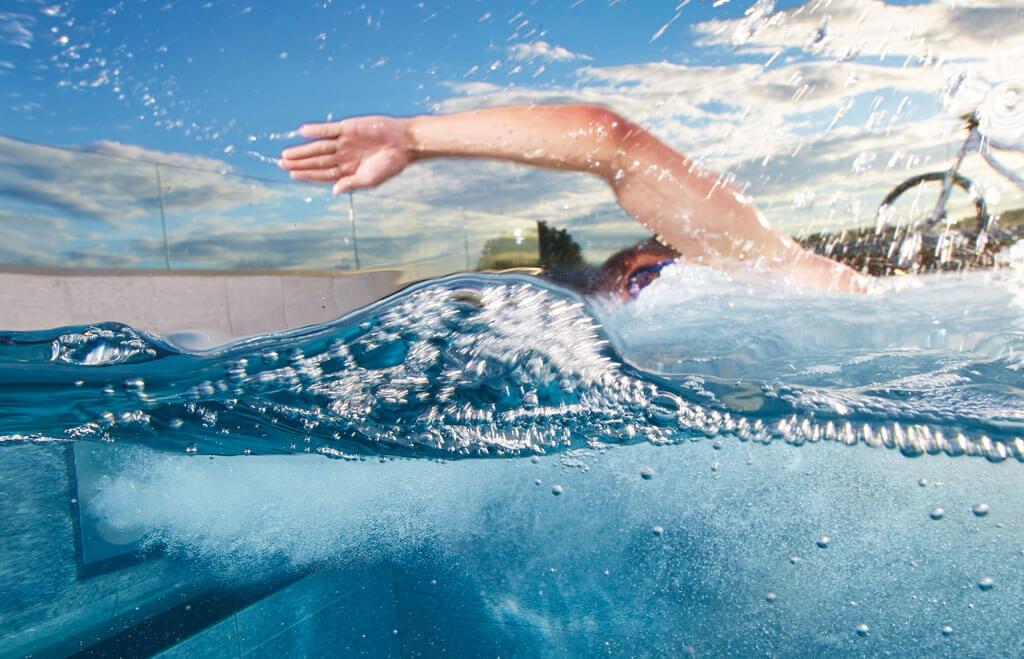 TRAINING AND SPORT, FITNESS AND MASSAGE – MAXIMUM BATHING FUN FOR THE WHOLE FAMILY
Counter current systems – the highlight in any pool
No turning at the end of the pool! Counter current swimming in your own pool is an unforgettable experience. fluvo® counter current systems transform swimming pools into adventure baths. Individual regulation of the current speed allows each swimmer to find their ideal setting, from unhurried paddling to a vigorous breaststroke or athletic front crawl. Children, adults, older people and swimmers with sporting ambitions can enjoy these water features to the full. A sensible investment in fitness and health that counters the monotony in one's own pool.
Some models also offer an option for an attachable massage unit. The myfluvo app facilitates programming of the counter current system, and training programs can be preconfigured. All systems are designed to meet the latest safety criteria, including hair entrapment safety. In addition to a high degree of operational safety, materials of the highest quality and efficient, energy-saving motors are essential features of all fluvo® counter current systems!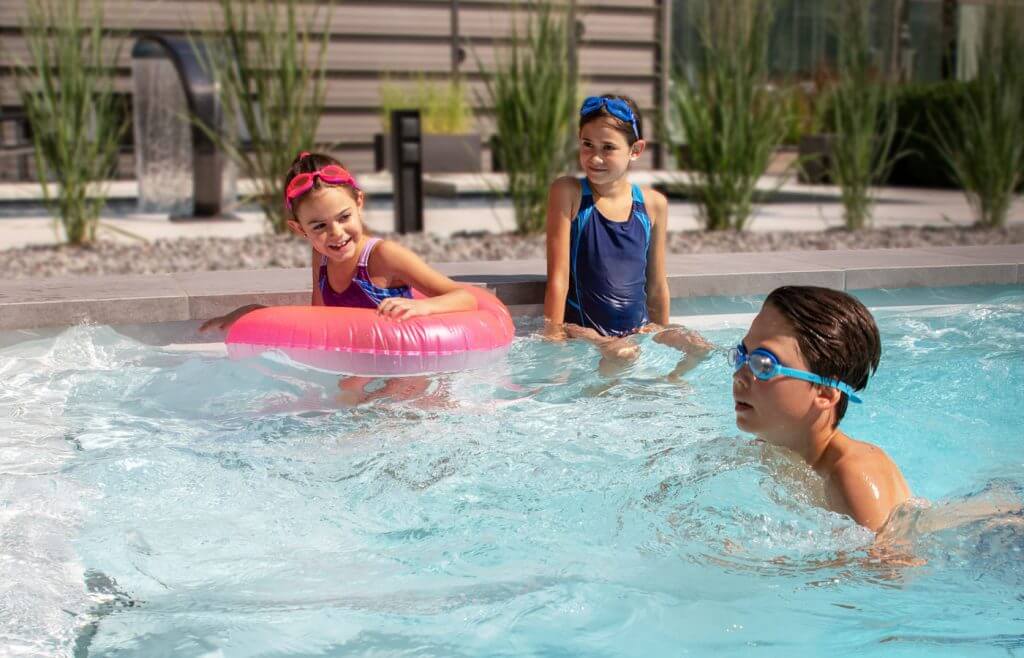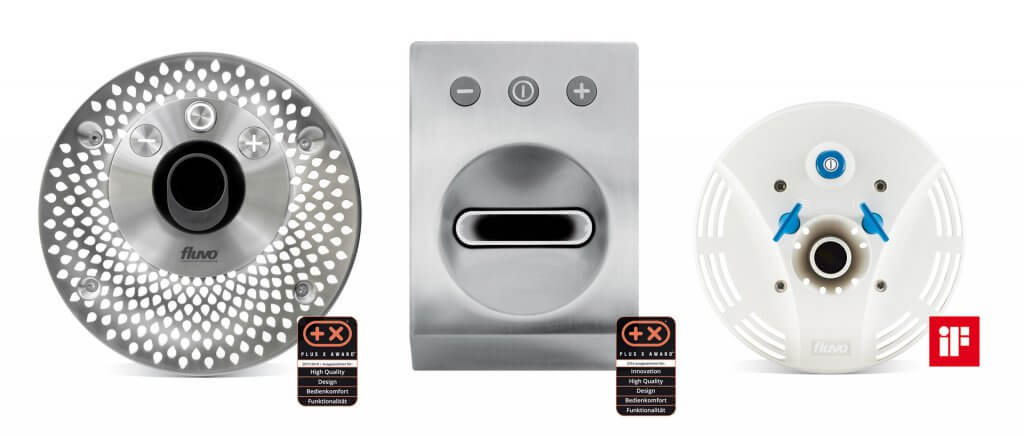 FUNCTION AND DESIGN, COMBINED FOR MAXIMUM COMFORT
Excellent quality and award-winning design
fluvo® X-jet and XANAS® series counter current systems won the Plus X Award in 2016 and 2017. The Plus X Award is the world's leading innovation price. fluvo® counter current systems impressed in the High Quality, Design, Ease of Use and Functionality categories. In addition to an already high level of acceptance and popularity on the market, this was further recognition of the realisation of pioneering Schmalenberger product ideas!
The rondo counter current system, which received the iF Design Award in 1998, laid the foundation for a product offensive that is consistently geared towards design and function, and which today sets the standard in counter current technology.
FREQUENTLY ASKED QUESTIONS
Interesting facts about counter current systems
How does a counter-current system work in the pool?
The counter current system is operated by a centrifugal pump. The generated counter current makes it possible to swim in place.
Can the intensity of the countercurrent be regulated?
The intensity of the counter current can be regulated with all of our counter current systems.
Who are counter-current systems suitable for?
Our counter-current systems can be selected with different pump capacities. Furthermore, the intensity of the countercurrent can be regulated. Therefore, our counter-current systems can be used by all age groups.
Are individual training programs possible?
Yes, our myfluvo app allows you to create and save individual training programs for multiple users. The counter current intensity can even be colour adjusted using our luchs® LED underwater lights.
Is the countercurrent nozzle adjustable?
With our XANAS®, rondo and karibic counter current systems, the counter current nozzle can be swiveled in all directions.
Can the counter current system also be used for a massage?
Some of our counter current systems can also be combined with a massage by attaching a massage hose or a massage nozzle. Please contact us.
What accessories are available for the counter current systems?
We offer handgrips and massage accessories for some of our counter current systems.
From what pool size can a counter current system be installed?
We recommend a pool size of at least 3 x 5 m.
For which types of pools can a counter current system be used?
Our counter current systems can be installed in all pool types. E.g. prefabricated pools, tiled concrete pools, concrete pools with liner, concrete pools with brushed applied sealant, pools made of exposed concrete, stainless steel pools, wooden pools.
Can a counter current system also be retrofitted in an existing pool?
Yes, we also offer our counter current systems for retrofitting in the pool.
myfluvo® –
smarter swimming pool experience
Combine and control all fluvo® water features with a single app.
We're here for you!
email
Feel free to email us
Please call us
Workdays from 8:00 a.m. – 4:00 p.m.
Contact form
Use our contact form